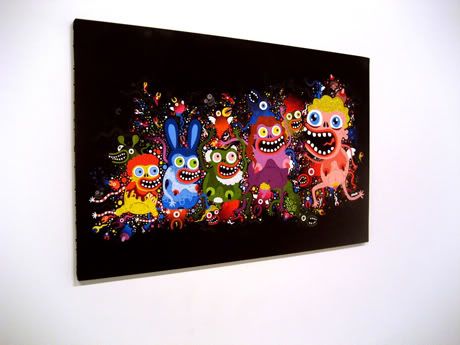 Week-end Aussi Drole que Bizzaroïde,je dois le dire.Ma boite aux lettres est un amour.

Tu veux un morceaux exceptionellement bon? Demande à Ghosthuslter,gros coup de coeur de la semaine dérriére,dédicace à manu,qui me la réclamé avec temps d'hardiesse.

Ghosthustler - Only Me To Trust

Le morceaux mega bonasse,c'est fais,je passe à goodtimes goodtimes,un londonien chevelus qui se plait a défendre une "alt'folk",un putain de bond dans le temps,son premier album,"glue" est sortis récemment,et c'est vraiment pas mauvais ! Bref,je te laisse à deux extrait tout beau tout frais.La plage en hiver.

Goodtimes Gootimes - Sea Shanty

Goodtimes Goodtimes - Kids

Ali ma toujours reproché ma trop grande admiration pour tout se qui est en provenance de scandinavie,autant en terme de jambes et des filles qui trone dessus qu'en terme de musique.Mais il faus bien avouer,que le made in scandinavia,c'est souvent cool ,et Grande vien se nicher dans cette article pour le prouver,un "we did it all" plus que pétillant,un grand bol d'air frais en provenance du grand froid.

Grande - We did It All

Je passe à la plage sombre du post,un peu de descente tout seul à ne penser qu'a ta maladresse,dérengeant et cyclique,dément.

Instrument Of Science And Technology - Shooting A rhino Between The Shoulders.

Le dernier album de Cat Power est très bon,on ne cessera de le dire,alors en passant,j'offre un cover de nick cave délicieusement essouflé.

Cat Power - Breathless (Nick Cave)

Et pour finir,2 bombes dans le club.

Artfull Dodger - Flex (Estaw Remix)

Ashlee Simpson - L.O.V.E (Felix Cartal Remix)

Mathias.